LIVING HUMAN TREASURES OF THE GALICIAN-PORTUGUESE INTANGIBLE HERITAGE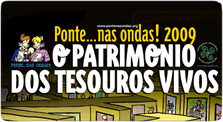 According to UNESCO, the Living Human Treasures are people who possesses to a high degree the knowledge and skills required for creating or performing specific elements of the intangible cultural heritage.
Living Treasures are the most special witness of living cultural traditions and also of creative talent of groups, communities and individuals that are present in the territory.
The Galician-Portuguese Intangible Heritage has a lot of examples spread around all the territory. Ponte… nas Ondas! recognizes and identifies these people and groups of bearers that supported the Candidacy of the Galician-Portuguese Intangible Heritage to UNESCO in 2004.
In 2009, Ponte… nas Ondas! has dedicated the xv edition of the inter-scholar communication workshop to Living Treasures Heritage. Schools in Galicia and Portugal developed a schedule whereby signs of these Living Treasures were collected and identified.
Ponte… nas Ondas! is applying to administrations for the recognition of Living Treasures as living cultural witness and as a component of Galician-Portuguese cultural heritage. We apply for the creation of the System of Living Treasures of Galicia-North Portugal Euroregion.
We also demand to the Galician-Portuguese society to identify these LIVING TREASURES and to send to our Association a card and the certifying documentary evidence of their knowledge.