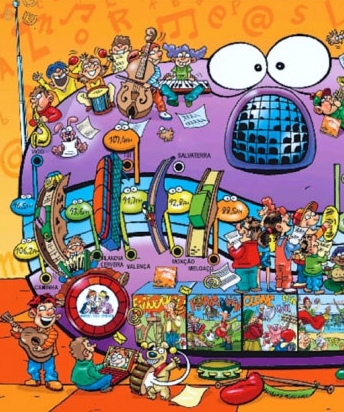 Ponte… nas Ondas! celebrates the World Radio Day by accepting the proposal of UNESCO, ratified in January 2013 by the General Assembly of the UN.
Ponte… nas Ondas! promoted in due course the School Radios Manifesto that was disclosed on 13th February 2014 on the occasion of the World Radio Day. The manifesto, supported by school radios of Spain, Portugal, Colombia, Brazil, and Chile, reclaimed a broadcast channel and a support for these initiatives of communication that promote the participation of young people.
In 2015, UNESCO dedicated the celebration of this World Radio Day to the young people and to the radio. In addition, UNESCO promoted a series of actions destined to highlight the participation of young people on the radio.
Ponte… nas Ondas! promotes the employment of radio at schools as a powerful pedagogical tool so that the student body will develop their oral and communicative skills.
Ponte… nas Ondas! was the first association to prove the communicative possibilities of School Radio, both in Elementary, and Secondary or even in the University, by making a transverse and supporting axis where all the areas of education converge and by completing, on an effective way, the work done inside the classrooms.
Radio is the way of orality, the way that contribute the most to improve the oral and communicative competence. It's fundamental that young people develop these abilities at school, in the media and in social networks.
The commemoration of World Radio Day is a good opportunity for Ponte… nas Ondas! to invite educative centres of the Euroregion to participate in this party of radio communication. This day coincide with the Carnival, one of the most representative manifestations of the Galician-Portuguese intangible heritage. Carnival has been worked through the airwaves by the schools of the Euroregion.
The Director-General of UNESCO, Irina Bokova, declared:
"Young women and men are not represented in the media, and this exclusion often reflects a social, economic or democratic exclusion. Young producers or broadcasters are still rare. Too few programs are devoted to or designed by young people. This deficit explains the many stereotypes concerning young people circulating in the media and over the airwaves. Radio provides the means for change. It's a vector of cohesion, education and culture."