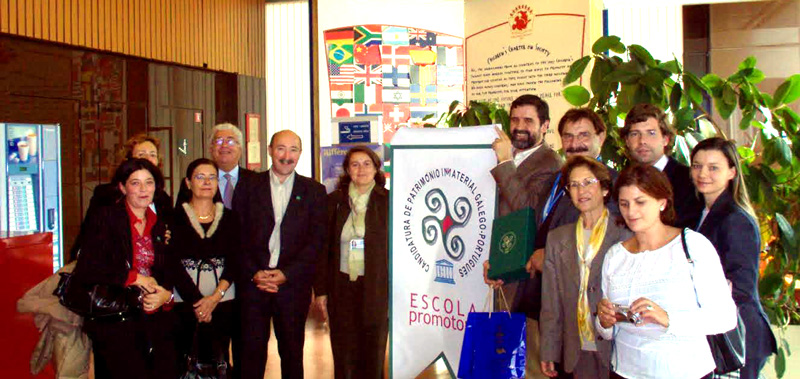 Tomorrow, we will celebrate ten years of the presentation of the Candidacy of the Galician-Portuguese Intangible Heritage in the presence of Unesco.
Artists and institutions will gather together on a gala in Tui to request again the presentation of the candidacy, as the Unesco itself recommended to the Spanish and Portuguese authorities.
This 25th November will be a very special date for the Cultural and Pedagogical Association PONTE…NAS ONDAS! because this day, one year ago, they were getting the ONDAS PRIZE in Barcelona; and 10 years ago, they were depositing in the headquarters in Paris a candidacy where the Galician-Portuguese intangible heritage opted to be proclaimed Heritage of the Humanity next to proposals as strong as the flamenco or the samba de roda from Bahia (Brazil).
At this time it couldn't be possible but Unesco recommended to the Spanish and Portuguese authorities to present the candidacy again. This candidacy continues to be more alive than ever, thanks to the constant work of PONTE…NAS ONDAS!. Next Wednesday, such a special date will be commemorate with a GALA OF THE HERITAGE to request the administrations of both countries to get involved again in this common project starring citizens of both sides of the Miño River, which during more than 20 years were those people that built a beautiful story of cultural understanding and twinning. This common project has become more significant in such a difficult moment we are experiencing.