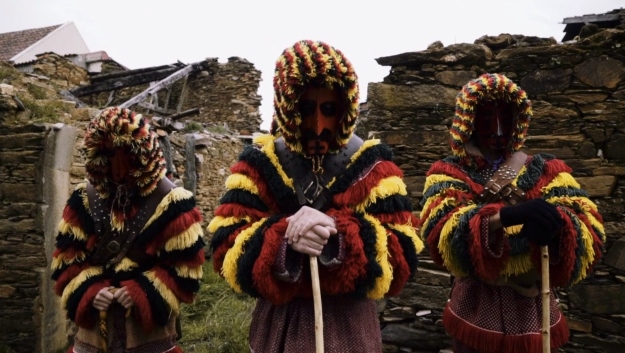 OS CARETOS DO PODENCE, A PRIMEIRA MOSTRA DO PATRIMONIO IMATERIAL GALEGO-PORTUGUÊS INSCRITA NA LISTA REPRESENTATIVA DO PATRIMONIO IMATERIAL DA UNESCO
Os Caretos de Podence ja chegaram à UNESCO em 2004 dentro da Candidatura do património imaterial galego-português que Ponte…nas ondas! promoveu para reconhecer o património comum à Galiza e ao Norte de Portugal. Nesse momento o processo de candidaturas estava dirigido às Obras Mestras do património oral e intangível. Agora, a UNESCO, após a entrada em vigor da Convenção para a salvaguarda do património imaterial, estabelece uma Lista Representativa na que os Estados inscrevem as suas candidaturas.
O Caretos de Podence formam parte das celebrações de inverno do património imaterial galego-português que tem expressões diversas por todo o território da Euro-Região e que apresenta manifestações semelhantes em Trás-os-montes e na Galiza como as máscaras de Lazarim ou os peliqueiros de Laza, entre outras.
O trabalho com o património imaterial comum realizado pelas escolas de Ponte…nas ondas! vem realizando-se desde há 25 anos e também os caretos foram divulgados na Galiza como pode comprovar-se no trabalho da Escola Secundária Pedras Rubias de Salceda de Caselas, no ano 2005, que já na altura entrevistavam ao presidente da comunidade dos caretos, o Sr. António Carneiro:
http://pnopedrasrubias.blogspot.com/2014/05/2005-o-entroido-na-raia.html
Também, dentro das Mostras da Oralidade Galego-Portuguesa que Ponte…nas ondas! desenvolveu para dinamizar e dar a conhecer o património comum encontramos a participação dos Caretos de Podence em 2007 na Mostra , realizada em Pontevedra e que foi documentada pela UVIGO-TV da Universidade de Vigo:
https://tv.uvigo.es/video/5b5b5b8d8f42080d287f9949
E para saber mais do entrudo no Norte de Portugal, o antropólogo e colaborador de Ponte…nas ondas! publicou este artigo na revista Galicia Encantada:
https://galiciaencantada.com/lenda.asp?cat=57&id=2219
The Skin of the Devil // A Pele do Diabo from Ze Maria M Moura on Vimeo.