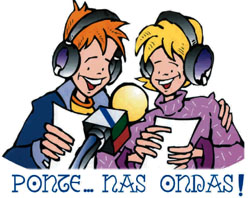 PONTE…NAS ONDAS! is a cultural and pedagogical association which, since 1995, has been carrying out educational and cultural activities in Galicia and Northern Portugal. Among the goals of the association are the promotion of cultural and pedagogical activities as well as the promotion of the common identity of the two peoples within a general perspective of European integration, and that of the Portuguese-speaking world. To these ends was added in 2002 the commitment to work on the recovery and spreading of the Intangible Cultural Heritage that is shared by Galicians and Portuguese.
Thanks to the cooperation between primary and secondary schools, throughout more than two decades, various activities have been carried out from educational centers on both sides of the Miño River, building a bridge of communication that crosses the border of the two territories, discovering a shared common cultural heritage from ancient Gallaecia.
In 2001, the Association embraced the UNESCO project 'The route of the slave' in order to focus its actions on intangible cultural heritage, starting in 2002.
In this context, motivated by the first proclamations of the Masterworks of Oral and Intangible Cultural Heritage, the first Candidacy of Galician-Portuguese Intangible Cultural Heritage was promoted
The candidacy proposal was presented to the governments of Portugal and Spain by a commission of professors and consultants of the Association through an important part of field work, that of documentation, investigation and an intense labor of spreading carried out by the schools of the Galicia-Northern Portugal Euroregion. Later, in 2004, the submission of the Candidacy was carried out in Paris jointly with the diplomatic representation of Portugal and Spain to UNESCO.
With the Convention of Intangible Cultural Heritage coming into effect, the work of PONTE…NAS ONDAS! continues to be focused on the preservation, spread and transmission of this common cultural heritage, for those organizing various activities: Cultural Heritage expositions, school contests for the collection of oral cultural heritage, conventions, pedagogical conferences, experiences with culture-bearing people, etc.
Throughout these two decades, PONTE…NAS ONDAS! has been building a network of people, schools, universities and institutions that seek the recognition of Galician-Portuguese Intangible Cultural Heritage in the world.