The association's name, PONTE…NAS ONDAS! is derived from the activity from which it sprung: a day of radio which united neighboring schools from both sides of the Miño River with the purpose of celebrating among the schools the historic act that the inauguration of a physical bridge between the towns of Salvaterra de Miño (Spain) and Monção (Portugal) brought to the area. In this moment, a group of 16 schools decided to establish a bridge of communication via the radio waves. That year the studios from Ecos da Raia de Monção (Portugal) and another provisional studio situated in the Casa da Cultura in Salvaterra de Miño (Spain) were used. The protagonists of the experience lived with great emotion that first experiential conference of cross-border radio and the success obtained assured its continuity.
That bridge that crossed over a border on a map became a bridge of communication, a bridge of waves
In that way, the educational initiative PONTE…NAS ONDAS! began with a conference that started with the broadcast of 12 horas of radiophonic programming put together completely by Galician and Portuguese students.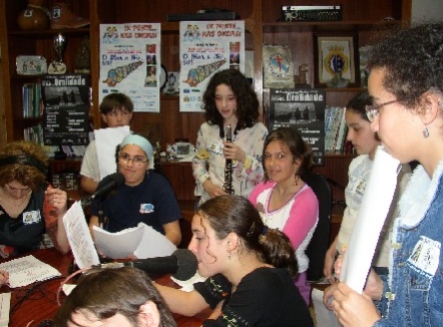 And so, since the year 2003 it reached 24 hours of broadcast with programs produced by more than 50 educational centers. Primary students, secondary students (since the 9th edition), and university students broadcast live radio programs. In the most recent editions, they have broadcast via television and internet, as well as presenting very diverse formats: contests, varieties, music, interviews, live connections between different studios, etc.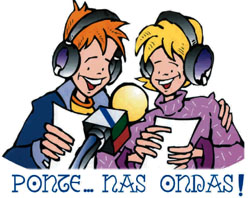 Even though Galician and Portuguese are the common broadcast languages, with the participation of centers in Argentina, Cuba, Chile and Colombia, Spanish also has been incorporated into the experience. During the communicative conference, boys and girls from all participating countries follow the programming and actively participate in it. The activities now involve educational centers of all levels, from basic education to universities.
In its moment, the success of the initiative led to the founding of the Cultural and Pedagogical Association PONTE…NAS ONDAS!, which has accumulated now more than 20 years working on the diffusion of Galician-Portuguese Intangible Cultural Heritage. Throughout the years and the fruit of the success of the initiative, educational centers from other countries have signed up for the activities promoted by the Association.